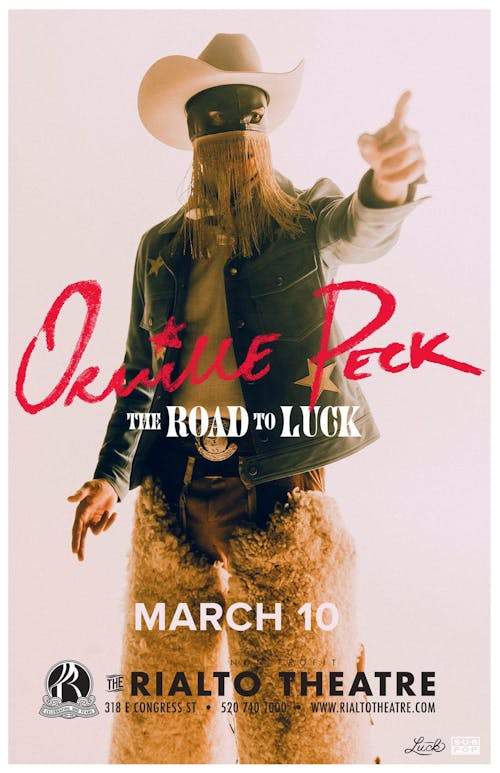 Orville Peck
Teddy and The Rough Riders
Rialto Theatre
Tucson
,
AZ
$25.00 - $35.00
Sales Ended
On Ticketmaster
Orville Peck Live In Tucson!
Orville Peck is country music's newest outlaw.His handmade,fringed masks,which obscure his features except for a pair of ice blue eyes,belie his deeply personal lyrics,while hisornate Nudiesuits recallthegolden ageof country.Since the March2019 release of his debut album,Pony,on Sub Pop Records,the enigmatic singer-songwriter has been featured on NPR and inBillboard,The New Yorker,Rolling Stone,The Los Angeles Times,Uncut,The Fader,The Bluegrass Situation,andVogue.The record,which Peckself-produced,draws from country music's rich traditions,whilehisuniqueand haunting baritoneweaves through twelve original songs.As a touring musician who has lived on three continents,the nomadicand solitarylifestyle of the cowboyis one that Peck embraces."This town has always bored me / And baby,that's including you,"he snarls on "Take You Back (The Iron Hoof Cattle Call)."
The songs ofPony,filled with heartaches,hustlers,and highways,are scenes pulled from thatrestlesslife.Steel guitar and soaring falsettobring an austere desert landscape and lost love to life onalbumopener"Dead of Night."Over gentle banjo,he detailstumultuousrelationships with a biker,a boxer,and a jaileron "Big Sky."ThroughoutPony,Peck puts his own spin onCountry &Westerntropes,singing over cracking whips and even letting out a "yeehaw"on "Turn to Hate.""Old River"is reminiscent of Marty Robbins'landmark 1959 LPGunfighter Ballads and Trail Songs,and "Roses Are Falling"features a recitation—a once-popular part of country music that's largely fallen out of fashion over the decades—that would make Hank Williams'alter ego Luke the Drifter proud.On "Queen of the Rodeo,"he tells the storyof a drag queen.The album's lonenon-autobiographical song,the foreboding "Kansas (Remembers Me Now),"is a tale oftwodoomedoutlaws on the run."True country music is not about instrumentation,it's not about the color of your skin,and it's not about your sexual orientation,"says Peck. "It's about the crossroads of drama,storytelling,and sincerity."Peck's masksand theatric stage presence immediately grab audience attention,similar to the way Dolly Parton and Johnny Cash's larger-than-life images captured him as a young man. However,it's hisvoice and hissongwriting,influenced by Parton,Loretta Lynn,Townes Van Zandt,and Gram Parsons,that havecaptivatedafan baseas extensive and diverse as his musical tastes.Citing artists from Ernest Tubb (the first country artist to use an electric guitar at the Grand Ole Opry) toKacey Musgraves,Peck says,"Every decade or so,there comes a new batch of artists that shake up the question of 'what is country?'"I'm in the middle of that more often than not these days. I kind of like it,because I think I'm in good company."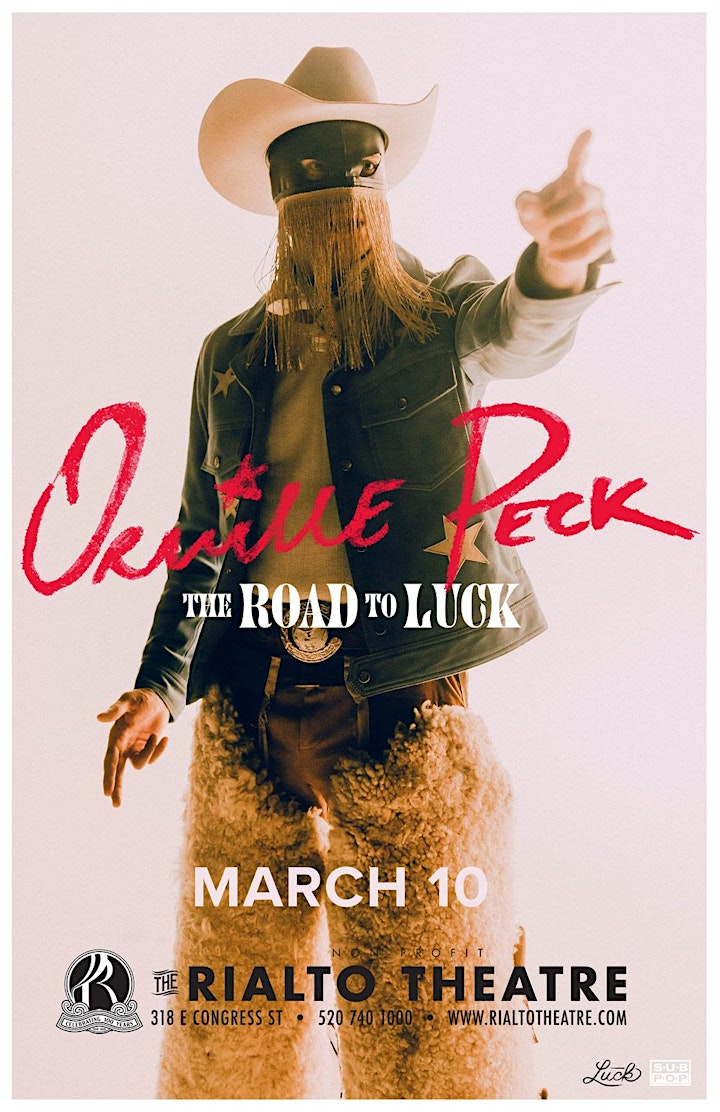 Venue Information:
Rialto Theatre
318 E Congress
Tucson, AZ, 85701